Xenia

c

Trader

LIVE

Forex Trading Accounts are NOT available to Retail Client Individuals who reside in the USA
International Business and Financial Consulting Services
Xenia cTrader
Benefits
Xenia cTrader is a true ECN STP, NDD Platform
Fast Execution with No Requotes
Forex Ecosystem with many Partners
Mirroring Support
Managed Accounts using PAMM
FATCA / CRS / AML / KYC Compliance
A-Book Only Forex Broker
Introducing Broker Program
Group Support
Offshore LLC
Working with Partners providing Offshore Corporate Services, Xenia helps clients needing to setup an Offshore Corporation. 

Rates vary depending by Provider, Jurisdiction, and specific requirements.
Consulting Services
Xenia's Consulting Services specializes in international business, corporate structuring, financial services, trading strategy analysis, Block-Chain, and Expat Living/Working. 

Rates are negotiated
Funding
Commissions
Live Rates
Managed Accounts
Xenia, along with Group Leaders, offer trading Strategies which are managed accounts traded by experienced or Professional Traders.  This enables investor type clients that want to participate in the Forex market, but  don't wish to trade themselves, while still maintaining discretionary control of their account, deciding when to Start and Stop Participation in a given Strategy. Once registered with Xenia, clients can view the Strategies available to them within their Group, plus view information and track records for the respective Strategies.
Strategies are provided using a PAMM (Proportional Allocation Management Module) via the Xenia Client Portal.  Xenia administers Performance Fees each month, applying Performance Fees on net gains, using a High-Water Mark model. The Xenia PAMM for cTrader provides all clients participating in the Strategy, up to the minute reporting of their participation account balance and trading equity via the Xenia Client Portal.
Support
Contact Xenia Support
Email:   

support@xenia.ky

Telephone: 

1-345-769-1233

Skype ID:  Xenia.Support

Website Online Chat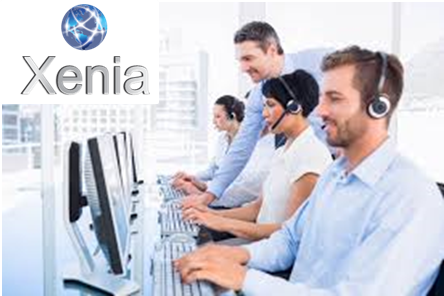 The Xenia Anti‐Money Laundering (AML) and Know Your Client (KYC) policies articulate Xenia's commitment to the prevention of money laundering, terrorist financing and other illegal transactions. Xenia recognizes that its practices must not merely attain compliance with regulatory requirements, but must be consistent with the principles of safe business practices, which enables Xenia to better serve and protect our clients.
What makes Xenia different from other Forex Brokers?
Xenia's business model is about building an ecosystem to enable client success with Forex Trading as a Trader or an Investor.
Working with partners, Xenia also aims to provide education, development services, expert advisers systems, algorithms, and other aspects necessary in the Forex ecosystem.
Xenia enables clients interested in participating in Forex trading, but prefer to not to trade themselves, to participate in managed account traded using Forex Trading Strategies executed by professional, experienced, and full time Forex Traders, where Performance Fees are paid on net gains earned each month using a high-water mark model.  The approach aligns both client and trader interests.  Xenia uses a Proportional Allocation Management Module (PAMM) model for managed accounts, reporting real time the account value via the Xenia client portal.
Xenia is an A-Book only Forex Broker, meaning Xenia does NOT take the other side of client trades.  Xenia offers a true ECN STP NDD trading platform, which is Spotware cTrader.
Xenia is a licensed online Forex brokerage committed to conducting business and operations in accordance with high ethical standards, transparency and in full conformity with all domestic laws and regulations. Xenia is in compliance with US FATCA and CRS (Common Reporting Standards). Xenia is registered with US IRS and the Cayman Islands Central Tax Authority. Xenia is in compliance with Cayman AML KYC regulations implementing strong AML and KYC policies, and having a third party compliance officer. Xenia also has a DUNNs number, and  Legal Entity Identity (LEI) Number.
Xenia has a generous referral Introducing Broker program where clients can earn a portion of the Broker Commissions on every trade their referrals make in regular Xenia cTrader trading accounts. With support for Groups or Clubs, Group Leaders may share in Performance Fees of the managed account Strategies they offer to their Group Members.
Xenia cTrader for Windows, Browser, Android, and iOS
Why cTrader?
Fast Entry and Execution

No dealer desk intervention (NDD)

True Electronic Communication Network (ECN)

True Straight Through Processing (STP)

Multi-Language Support
Level II Pricing
Advanced Charting
cAlgo Integration
Multiple Accounts
FREE DEMO ACCOUNT
Use Xenia cTrader to create a Free Demo Account.